Inspired By Excellence & Innovation
Hidayah Academy is a model Islamic school that aims to help students develop to their fullest academic, moral, and spiritual potential. It seeks to produce generations of self-motivated servant leaders and individuals who become productive citizens of the American society and the world-at-large.
Hidayah Academy's mission is creating an environment of academic excellence within a safe, Islamic learning environment through an evidence-based, interdisciplinary approach.
nurturing american-muslim identity
A unique Islamic School environment where students are encouraged & taught to balance both their American & Islamic identities.
Personalized academic counseling to fit students' needs.
An academic environment where our students welcome & embrace their academic challenges.
highly qualified teachers
Teachers are highly experienced and continue to grow through our professional development process.
Hidayah Academy seeks to be fully accredited in the near future. In order to do so, it ensured that it's curriculum is fully aligned with national and state standards, teachers have extensive teaching experience, and the school building is up to Virginia school code.
Hidayah Academy's board of Directors is responsible for ensuring the implementation of the overall vision and mission of the school. They are also responsible for reviewing and approving the school's budget, overseeing the school administration, and approving the general policies of the school.

The Board consists of members who serve on a voluntary basis for two year terms. Vacancies on the Board are filled upon nomination of an individual by other board members. All board members share the overall vision of the school and understand the need for transparency and community outreach.
Co-Founder & Head of School
High School Social Studies
Middle School Math, Arabic, & Art
Co-Founder & Head of School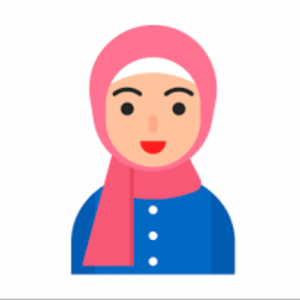 Middle School English and Islamic Studies
If anyone were to ask me how a teen who never really felt a strong connection to Islam would fare at an Islamic school such as Hidayah, I would reluctantly admit he or she would probably not fare well. I would wonder what Hidayah could do to help that teen develop a strong affinity to Islam that I could not do or had not done on my own. I was a stay at home mother that homeschooled my children and believed I knew exactly what my children needed for their academic and religious education. I was wrong. My teen went from not even being certain of the existence of God to now sometimes feeling guilty when he misses prayer and praying on his own even when no one is looking. Alhamdulillah, he is more certain that his religion is the right religion for him. He is developing a quiet but sure belief and confidence in his faith. It is amazing to watch this growth of faith and I pray to Allah it continues to grow after he leaves Hidayah.

Hidayah provided a safe haven for him religiously, spiritually, and academically. It's small class sizes allowed for individual attention. Their warm and compassionate teachers respect different learning styles and abilities but still nurture and encourage rigorous thinking. Many teachers hail from top universities or have PhD's in their disciplines. Class participation is not simply encouraged, it is expected. Best of all, many teachers weave Islamic education into their curriculum. The pre-calculus teacher always reminded students of the importance of honesty in test-taking. The English/Language Arts teacher sometimes assigned readings, films, or classic Islamic literature and delved into Socratic discussions of morality and ethics. The Islamic Studies teacher provided in-depth teachings of the history of Islam, the Prophet's (pbuh) life, and explained why and how Muslims practice.

So I have learned that the prescription for enriching the mind and soul is simple. Place a child in a small classroom environment with dedicated, warm teachers, ensure the child feels safe and free from any type of bullying, hold that child to high expectations…and he or she will inevitably thrive.
HUMAIRA GAZORI
"My daughter Noor Z joined Hidayah Academy when she was in 7th grade. Alhamdulellah this was the right decision that we made.

My daughter's religious knowledge, leadership skills, and academic achievements have improved tremendously due to this excellent and warm environment.

The teachers are highly educated, thoughtful and nurturing. They are full of enthusiasm and have a great way of explaining the rigorous academic challenges.

I am very pleased that I found Hidayah Academy soon enough to be my daughter's Middle School and In Shaa Allah her high school. I highly recommend Hidayah Academy. "
ALA GHAZZAWI
"I highly recommend Hidayah Academy! The school fosters a warm, nurturing environment where students are encouraged to explore their individual interests and develop a love of learning.

The integrated curriculum reinforces concepts across different subjects. The teachers are qualified and creative. They enjoy teaching and working with students! The Arabic and Quran programs are amazing.

Definitely, my children are receiving a world-class Islamic education along with the soft skills required for leadership in a global economy."
AMAL JAWAN
"Hidayah Academy provides strong academics and a nurturing environment for students, constantly striving to grow while taking student and parent feedback into consideration. Highly recommend."
SOHAIB ELSAYED
My freshman and sophomore years at Hidayah Academy proved to be a beneficial and eye-opening experience on many levels. Hidayah offers many opportunities for spiritual and mental development and maturation. My experience at Hidayah Academy has been valuable to my personal and academic development.
A.O.C, HIGH SCHOOLER
Alhamdulillah my time spent at Hidayah Academy has been amazing. I couldn't ask for a better school, teachers, peers, friends, and environment. I enjoyed going to school every day and looked forward to learning more about my Dean. Although we did not end School in an ideal way I truly felt like I benefited immensely in terms of academics this year and inshallah I pray that we can go back to school normally.
D.A., STUDENT
My experience at Hidayah this year has been short because of my late arrival, but well. The environment was much better hands down, simply because students were of the same religion as myself, and it was much easier to connect. As for the staff, it was really nice learning from all the teachers, not to say that my old teachers were terrible, but for some subjects, the Hidayah teachers were more instructively driven.
Y.A., STUDENT
Overall, I think the school year has been great. I really learned a lot, not only about academic subjects but also about life in general. I really enjoyed the year, and can't wait till next year to do this again.
D.B., STUDENT